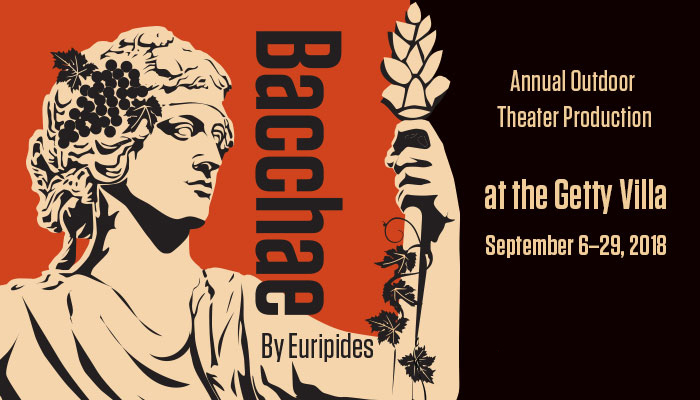 Bacchae
Outdoor Classical Theater
GETTY VILLA
The Barbara and Lawrence Fleischman Theater
This is a past event
Directed by Anne Bogart
Co-produced by SITI Company
Translated by Aaron Poochigian

Packed with striking scenes, frenzied emotion, and choral songs of great power and beauty, Bacchae endures as one of Euripides's greatest surviving works. Dionysus, the god of wine, ritual madness, fertility, and theater, arrives in disguise at his birthplace in Greece. As revenge for a personal slight, he begins to spread his cult among the people of Thebes. King Pentheus, fearing the ensuing disorder, imprisons him. This misguided attempt to thwart divine leads to catastrophe. Tickets $42.

Click here to buy tickets with fine dining options.
Need help?
Contact us!
9 am–5 pm,7 days a week
(310) 440-7300