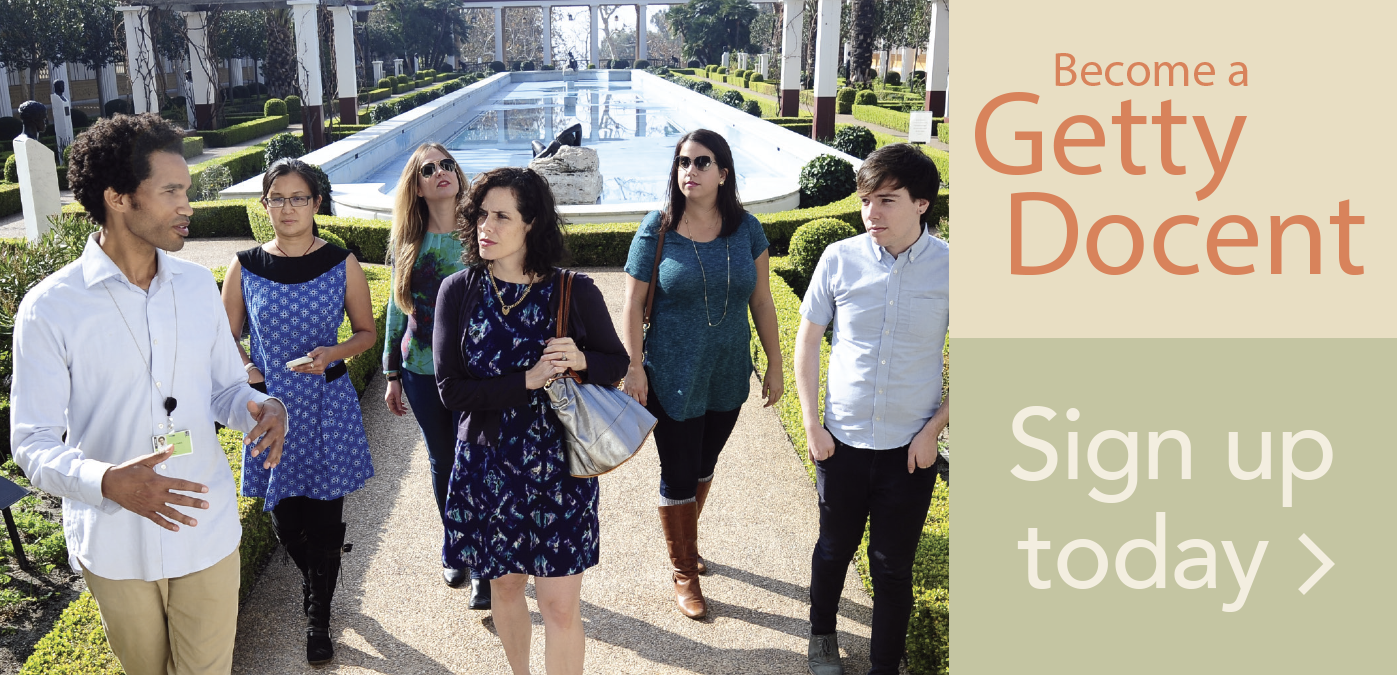 No museum or art history background required
Volunteer any day of the week
Behind-the-scenes access
Never stop learning
Become a Getty Docent at the Getty Center or Getty Villa >
Getty docents connect with museum visitors every day, inspiring a love of art, an appreciation for history, and creating memorable experiences for visitors from around the world. They play an essential part in the museum and the mission of the Getty as a whole.

At the Getty Center and Getty Villa, docents are highly-trained volunteers who work directly with the public, leading tours of the galleries, architecture, and gardens. They are open-minded, inclusive, generous, and genuine, promote curiosity, and celebrate the perspectives of all individuals in our diverse audience.

Prospective docents participate an extensive training program taught by museum educators. The Getty offers ongoing opportunities to learn from experts in wide ranging fields throughout the museum. The docent core numbers more than 500, forming a community of outgoing, lifelong learners.

The program is designed to be flexible, supporting a variety of possible opportunities at both the Getty Center and the Getty Villa, including weekday or weekend, morning or afternoon shifts to fit into any schedule.
Gallery Docents
Gallery Docents lead adults and families on tours of the collection and exhibitions. You'll be surrounded by inspiring art from tapestries to photographs, and have the opportunity to meet visitors from all over the world.

Apply to be a Gallery Docent >
Site Docents
Site Docents lead tours of the architecture and gardens at both Getty locations, and host visitors in our sketching gallery and family spaces. You'll be surrounded by the panoramic views of the Getty Center or the historic ambience of the Getty Villa.

Apply to be a Site Docent >
School Group Docents
School Group Gallery Docents lead tours for K-12 students. You'll work directly with students, and have the chance to make a difference in the lives of local young people through art.

Apply to be a School Group Docent >
Docents work in four-hour shifts on assigned days of the week. We ask that applicants commit to either sixteen hours per month on weekdays or eight hours per month on weekends. Initial training is weekly and involves both classroom time and practical gallery instruction with experienced educators.

Questions? Write to us: docent@getty.edu

The J. Paul Getty Trust is an equal-opportunity employer.