Louis Rousselet India Diaries and Photographs
The Getty Research Institute has acquired diaries and photo collections related to noted photographer, geographer, and archaeologist Louis-Théophile Marie Rousselet's journey to India from 1864 through 1868, later documented in the album Voyage dans l'Inde.


The two volumes of diaries detail a key period (1864–1866) during the journey through hand-drawn maps, notes, sketches, a résumé of the places and dates on which Rousselet met various Indian dignitaries, and 15 albumen photographic prints, primarily of Bombay (Mumbai) and its environs. These unique manuscript diaries present a meticulous, firsthand account of not only Rousselet's geographical journey and its daily experiences but his journey as an artist, coming into contact with an unfamiliar continent.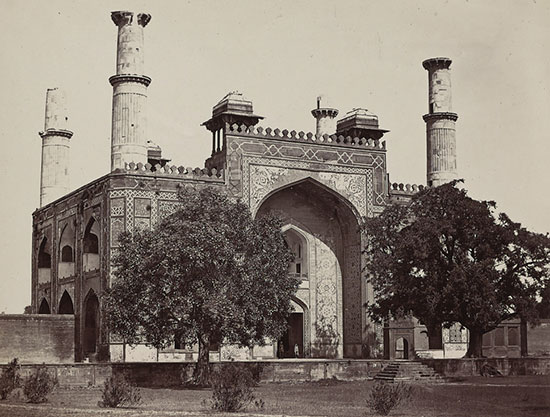 Donated by Getty Research Institute Council members Catherine Glynn Benkaim and Barbara Timmer in honor of Thomas W. Gaehtgens, director emeritus of the Research Institute, the first collection of images consists of 26 albumen photographs of architectural studies and monuments in Allahabad, Delhi, Lucknow, Secundra, and Togluckabad. Also acquired by the Research Institute is a related group of 105 photographs by Rousselet documenting monuments in Agra, Ahar, Ajmer, Alwar, Amber, Arawalli, Bénarès, Chittor, Datia, Dig, Govindgarh, Gwalior, Jhansi, Kajraha, Lashkar, Orchha, Sonagarh, Sultanganj, and Udaipur. Both collections feature photographs taken between 1865 and 1868, and they build directly on the Research Institute and J. Paul Getty Museum's photo collections of India.