Erich Mendelsohn Collections
The Getty Research Institute has acquired several collections related to the world-renowned German architect Erich Mendelsohn (1887–1953).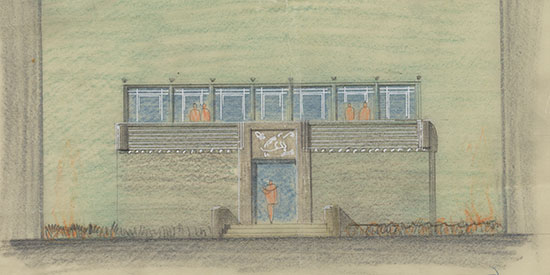 Esther Mendesohn Joseph collection of material pertaining to Erich and Luise Mendelsohn
Family correspondence and photographs; business materials; abundant documentation related to the 2005 restoration of the De La Warr Pavilion in Sussex, England, designed by Mendelsohn and Serge Chermayeff in 1935; and correspondence regarding important related exhibitions.
Hans Schiller material relating to his work with Erich and Luise Mendelsohn
Material pertaining to Mendelsohn's collaboration with architect Hans Schiller, both in Palestine and in the United States, comprising drawings, correspondence, photographs, manuscripts, books, and other reference materials.
Michael Alexander Gallis papers
Papers documenting the professional practice of the architecture firm Erich Mendelsohn Architects (with associate Michael Gallis, Sr.) in San Francisco from 1948 to 1953.
Erich Mendelsohn project photographs
Photographs of two Mendelsohn architectural projects in Berlin: Rudolf Mosse Publishing House (1922–23) and Double Villa Dressing Room (1922).
Erich Mendelsohn sketches
Six preliminary sketches (dated 1952) for Mendelsohn's design of the Atomic Energy Commission Research Laboratory at UC Berkeley and a 1949 sketch of San Francisco Bay in pastel on paper, representing the last years of the architect's prolific career.