Art in L.A.
Artist Dialogues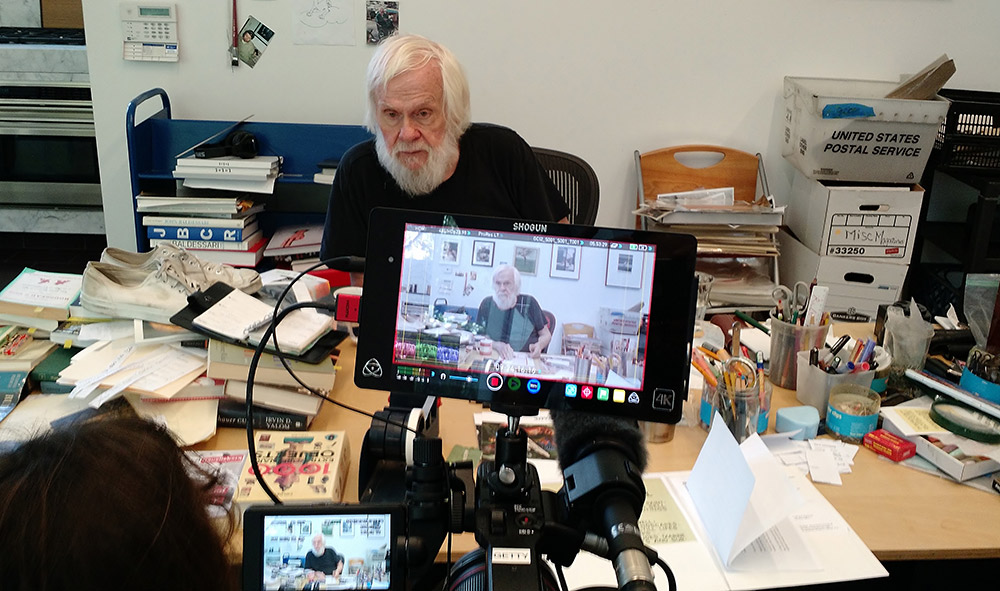 The Artist Dialogues video series engages artists in conversations exploring their art, materials, fabrication processes and working methods, as well as their thoughts on conservation.
Using Los Angeles as a microcosm of contemporary art, these Dialogues aim to capture artists' overarching philosophy and attitudes towards materiality, process, concept, longevity, legacy, and conservation. As a series, Artist Dialogues strives to present the complexity, fluidity and diversity of artists' attitudes towards conservation and to make this information easily accessible to conservators, curators and art historians, as well as the interested public.
Each Dialogue is based on extensive research and interviews, the resulting videos tell a highly condensed and edited story in the artist's own words. Transcripts of full interviews will be made available to conservation and visual arts professionals upon request.
Videos


Peter Alexander: The Color of Light
A California native who studied architecture before switching to art in the mid-1960s, Alexander became rapidly renowned for his exploration of transparency and color in his polyester sculpture. Inspired by the California light and ocean, his atmospheric pieces create ever-shifting viewing experiences. In the early 1970, Alexander stopped working in polyester to dedicate himself to painting. In the 2000s, he discovered polyurethane, which allowed him to return to sculpture and continue his explorations of the properties of color without the downsides of polyester (e.g. toxicity, brittleness, yellowing).
Filmed in his Santa Monica studio, Alexander discusses his process working with polyester resin in the 1970s, his more recent process with polyurethane, and the properties of both materials in relationship to his intent. He also discusses his concern for the aging of his work and how he would like it to be seen in the future. Demonstrations of the artist at work, both archival and recent, illustrate the process.


Larry Bell: Seeing Through Glass
Fascinated by the interaction between light and reflective surfaces, Bell had been looking for a way to make mirrors reflective on both sides when he came across an industrial process called vacuum-deposition of thin films. The process deposits, under vacuum, a micron-thin layer of metal or other material that modifies the way glass panels absorb, reflect, and transmit light to stunning effect. Bell was filmed in his Taos studio discussing and demonstrating his working process, and sharing his thoughts on the conservation of his work. For Bell, "There is a patina that comes to everything with age. I don't try and fight that patina; I like it."


NEW
Finder Keeper: The Art of Gabriel Kuri
Born in Mexico, Gabriel Kuri has lived and worked in Europe and Los Angeles. In his work, Kuri often repurposes found or off-the-shelf materials to create sculptures, installations, collages and photographs that contain sharp socio-economic and cultural observations—the ideas of transaction, systems of exchanges and circulation for instance are very important to his work.
Contrast is crucial in his use of materials. He likes to juxtapose the fleeting and permanent, solid and the fragile, hard and soft, the noble and the mundane, which often gives rises to subtle humor and poetry. Although conceptually rich, his works also have a very physical presence; "I'm a maker," comments Kuri. In this documentary, Kuri describes his working methods, how he approaches materials and what he expects from them, and discusses his thoughts on aging, replacement, and his role in the conservation of his work.
Finder Keeper is the first in a trilogy of videos focusing on the work of Latin American artists working in Los Angeles as part of Pacific Standard Time: LA/LA. Additional artists to be featured include Analia Saban and Davis Lamelas.


Helen Pashgian: Transcending the Material
Helen Pashgian is often credited with being one of the pioneers of the Light and Space movement. In the 1960s and 1970s she used cast polyester resin to create translucent sculptures, delicately colored and often intimate in scale, that play with light to conjure a myriad of shifting, transient effects. Worried about the toxicity of polyester resin, she eventually switched to cast epoxy resin and sheet acrylic. The video includes footage of her re-creation of a large, translucent polyester disc ( stolen from an exhibition in 1971) in her new medium, epoxy. Pashgian has been firm in her opinions of conservation, with a very low tolerance for any sign of damage, "If there is a scratch on the surface, that's all you see."


De Wain Valentine: From Start to Finish the Story of Gray Column
Largely through interviews with Valentine and his contemporaries, studio assistants, collectors, conservators, curators, and scientist, this video recounts the obstacles that had to be overcome to cast pieces the size of Gray Column, the importance and influence of Valentine's work, the issues related to its conservation, and the challenges involved in preparing for the piece for exhibition.