Collection Environment Field Activities
Eames House Conservation Assessment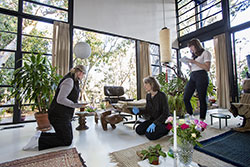 One of the sites at which the team has been working is the Eames House in the Pacific Palisades area of Los Angeles. The Eames House's interior collection is comprised of an array of furnishings, textiles, books, folk objects, and artworks that Ray and Charles Eames collected for the house they lived in and which form an important part of the site's character-defining features.
The conservation assessment followed up the interior and exterior environmental monitoring conducted by the GCI's Eames House Conservation Project in order to develop an understanding of how the environmental and physical conditions are affecting the site, the house, and its contents. It was linked to a simple risk assessment to identify the risks that are at play in this specific site—a risk being defined as a specific scenario for an agent or agents of deterioration to affect the collection.
By identifying the magnitude of the risk, mitigation strategies can be designed, which help inform the conservation master plan. This approach allows for balancing the needs of the collection, building, site, staff, and visitors with available resources now and for the foreseeable future.
Page updated: August 2017