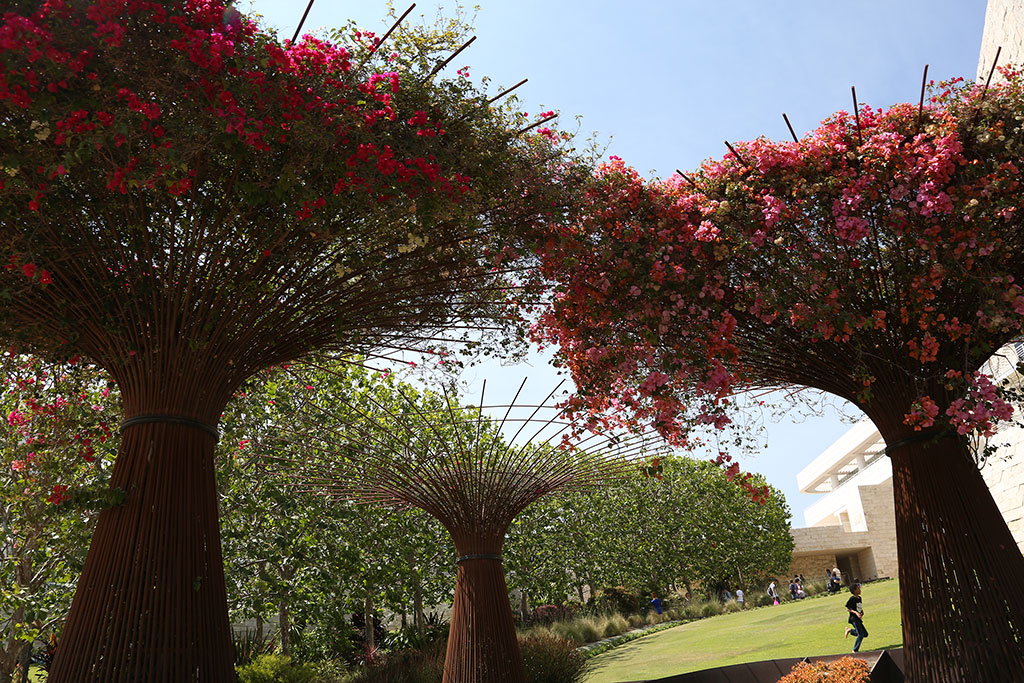 The Getty Center features several gardens, including the Central Garden—an evolving work of art, a cactus garden that overlooks Los Angeles, and two sculpture gardens.
The Central Garden
The Central Garden at the Getty Center is an evolving work of art, designed to change with the seasons.
Created by California artist Robert Irwin, the 134,000-square-foot Central Garden lies at the heart of the Getty Center. A walk through the garden provides an extraordinary experience of sights, sounds, and scents.
A walkway crosses over a stream that winds through a variety of plants and gradually descends to a plaza, where you'll find bougainvillea climbing through custom-made rebar trellises. The stream cascades over a stone waterfall into a pool containing a maze of azaleas. Specialty gardens surround the pool.
All of the foliage and materials of the garden are selected to accentuate the interplay of light, color, and reflection. More than 500 varieties of plant material are used in the landscaping.
Since the Center opened in 1997, the Central Garden has evolved as its plants have grown and been trimmed. New plants are constantly being added to the palette. Irwin's statement "Always changing, never twice the same" is carved into a stepping stone in the garden, reminding you of the ever-changing nature of this living work of art.
See a list of highlighted plants (PDF, 36 KB) used in the Central Garden at the Getty Center.

Read articles about the Central Garden on the Getty's blog, The Iris.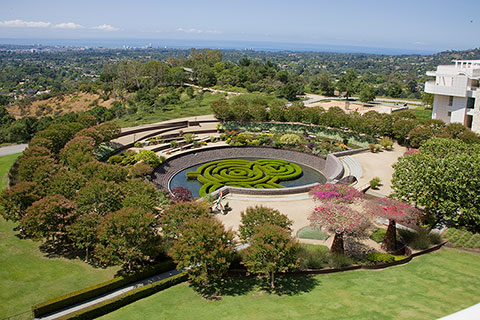 The Cactus Garden
See a variety of cacti, succulents, and other plants from a desert terrain—as well as panoramic views of Los Angeles—in this garden located between the East and West Pavilions.
Lower Terrace Sculpture Garden
Located above the main parking structure next to the Lower Tram Station, sculptures by modern artists such as Henry Moore and Elisabeth Frink, and plants such as colorful tall verbena, can be found here.
The Fran and Ray Stark Sculpture Terrace
Adjacent to the Museum's West Pavilion are works that depict the shift in figurative sculpture from representation to abstraction, including works by Barbara Hepworth and Rene Magritte.
Fran and Ray Stark Sculpture Garden
Connected by a walking path to the Central Garden, this sculpture garden contains outdoor sculpture by Joan Miró, Alexander Calder, and others.