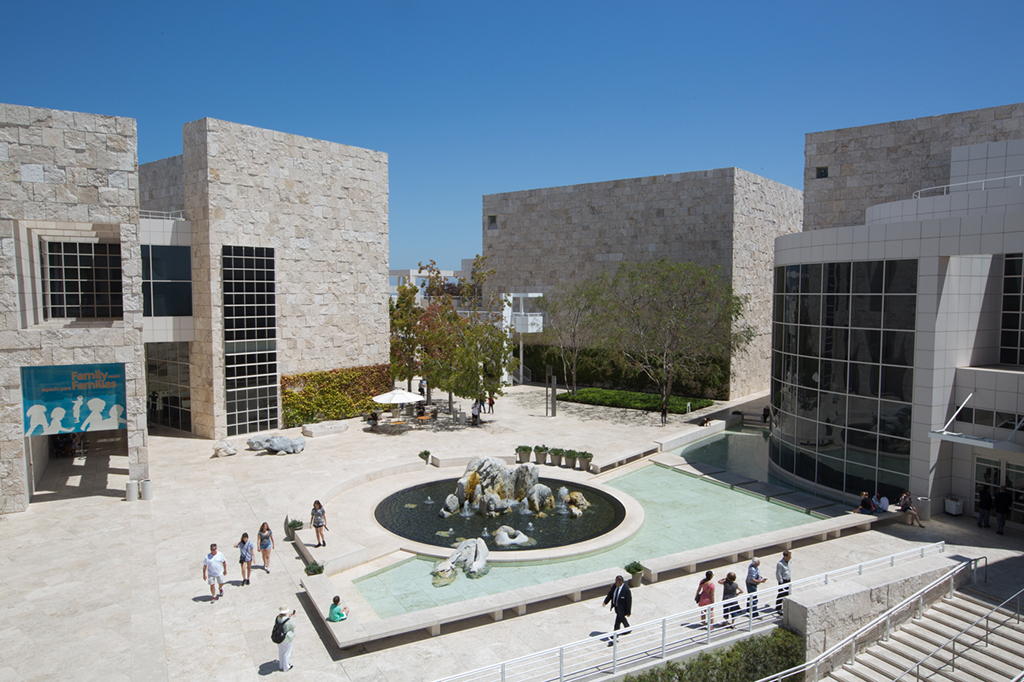 The Getty Center is a unique destination that incorporates modern design, beautiful gardens, open spaces, and spectacular views of Los Angeles.
Architecture Tours
Explore the Getty Center's architecture through a 45-minute tour.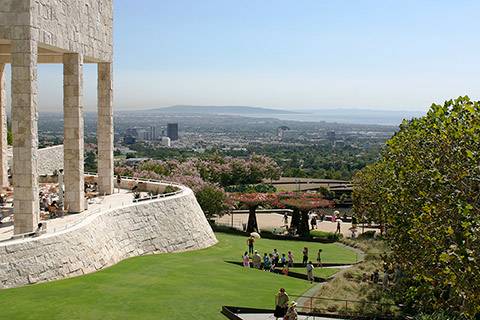 Location
The Getty Center sits on a hilltop in the Santa Monica Mountains, just off the 405 Freeway. Visitors can take in Los Angeles's beautiful landscape—the Pacific Ocean, the San Gabriel Mountains, and panoramic views of the city. These elements inspired architect Richard Meier to design a campus that highlights both nature and culture.
After riding a tram from the street-level parking facility to the top of the hill, visitors will find a campus covered in Italian travertine and organized around a central arrival plaza. Curved design elements and natural gardens soften the linear grid pattern created by the travertine squares.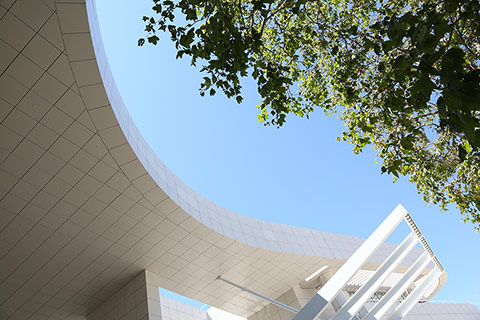 Materials
The stone—1.2 million square feet of it—is one of the most remarkable elements of the complex. This beige-colored and highly textured travertine catches the bright Southern California light, reflecting sharply during morning hours, and emitting a honeyed warmth in the afternoon.
Meier chose stone for this project because it has been historically associated with public architecture and expresses qualities the Getty Center celebrates: permanence, solidity, simplicity, warmth, and craftsmanship.
The 16,000 tons of travertine are from Bagni di Tivoli, Italy, 15 miles east of Rome. Look for fossilized leaves, feathers, and branches amongst the stones, which were revealed when they were split along their natural grain.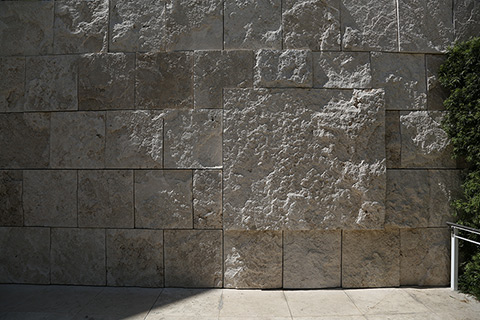 Natural Light
Natural light is one of the Getty Center's most important architectural elements. The many exterior walls of glass allow sunshine to illuminate the interiors. A computer-assisted system of louvers and shades adjusts the light indoors. The paintings galleries on the upper level of the North, South, East, and West Pavilions are all naturally lit, with special filters to prevent damage to the artworks.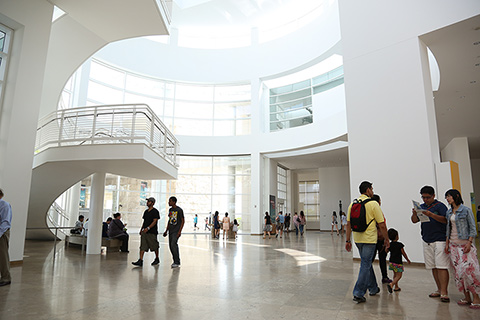 Libraries, Offices, and Additional Galleries
A circular building to the west of the Central Garden houses the Getty Research Institute, used primarily by Getty scholars, staff, and visiting researchers. The circular form evokes the cycle of research and scholarship. An interior ramp creates rounded paths, promoting interaction among the scholars and staff. On the lowest level, a skylight allows light into the reading room. On the plaza level, an exhibition gallery displays materials in the Research Institute's collection.
Two buildings to the north and east of the Tram Arrival Plaza house the Getty Foundation, the Getty Conservation Institute, and the J. Paul Getty Trust administration offices. Sunken gardens, terraces, glass walls, and open floor plans provide fluid movement between indoor and outdoor space, and views of Los Angeles for Getty staff.