Questioning the Standard:
New Narratives of Art in Los Angeles
Archival Program Information
For current Research Institute events, please see The Getty Event Calendar
Workshop
Friday, May 13, 2011
9:30 a.m.–5:00 p.m.
Museum Lecture Hall
The Getty Center
This one-day workshop brings together curators, scholars, and educators working on the
Pacific Standard Time
region-wide research initiative. Thematic group conversations address some of the myths and stereotypes that still pervade accounts of Los Angeles art in the postwar period. Art historical narratives have often been predicated on ideas that frame Los Angeles as provincial and peripheral; that assume all art made in the city to be inspired by its landscape, light and lifestyle; and that depict the Los Angeles art world as a series of separatist communities with little mutual interest. As we begin to redress the balance, what value is to be found in examining such myths, and how has recent research enabled a more nuanced understanding of the period? Fostering an environment of inclusive dialogue, this event draws out issues that span different media and subject areas, and promotes fruitful exchanges across the
Pacific Standard Time
project.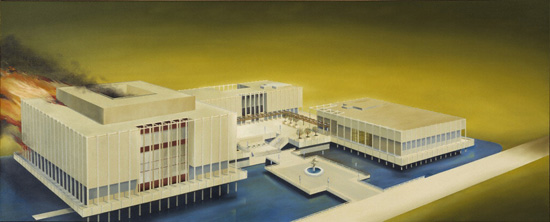 10:30 a.m.
Session 1: Provincial and Peripheral? Locating "Los Angeles Art"
While exploring the character and role of Los Angeles's postwar artistic networks and institutional development, this session addresses the alternative narratives of modernism that emerged on the West Coast during this period.


1:30 p.m.
Session 2: Rethinking Art in Los Angeles as a Reaction to Its Environment
This session investigates the role that the natural and man-made environments of Southern California played in the production of art in Los Angeles in the postwar years.


3:30 p.m.
Session 3: Diversions and Diversity: New Publics in Los Angeles
Pacific Standard Time
is an opportunity to think through non-canonical artistic subjects and diverse viewpoints. This session considers the institutional, practical, and intellectual challenges involved with audience development, inclusivity, and diversity initiatives.