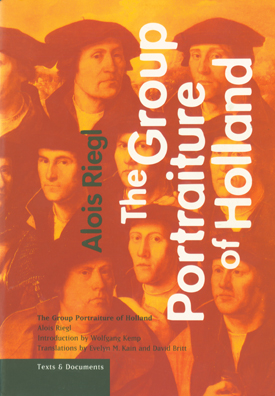 The Group Portraiture of Holland
Alois Riegl; introduction by Wolfgang Kemp; translations by Evelyn M. Kain and David Britt
1999
424 pages
PDF file size: 102 MB
Description
The Group Portraiture of Holland shows how artists such as Rembrandt and Frans Hals radically altered the relationship of the beholder to the work of art. Alois Riegl's masterly study has become a point of departure for a variety of twentieth-century readings of art, demonstrating again that, as Walter Benjamin wrote of Riegl's Late Roman Art Industry, "every great scholarly discovery … portends a revolution in method."

In this volume, Alois Riegl argues that group portrait painters in Holland radically transformed the beholder's relationship to the work of art. Italian art based on internal coherenceĖthat is, a clear hierarchy of the figures depicted in the painting—ran counter to the Kunstwollen (artistic volition) of the artists of democratic Holland. Seeking to maintain equality among the sitters, these artists introduced external coherence into their group portraits—that is, the figures portrayed actively engage the viewer outside the frame. Riegl's exploration of this new role for the beholder, and of the increasingly nuanced interplay of internal and external coherence in works by painters such as Rembrandt and Frans Hals, broke new ground in the theory of communication, in the aesthetics of reception, and in historical psychology.

The Texts & Documents series offers to the student of art, architecture, and aesthetics neglected, forgotten, or unavailable writings in English translation.

Edited according to modern standards of scholarship, and framed by critical introductions and commentaries, these volumes gradually mine the past centuries for studies that retain their significance in our understanding of art and of the issues surrounding its production, reception, and interpretation.

Eminent scholars assist in the selection and publication of volumes in the Texts & Documents series. Each volume acquaints readers with the broader cultural conditions at the genesis of these texts and equips them with the needed apparatus for their study. Over time the series will greatly expand our horizon and deepen our understanding of critical thinking of art.
Table of Contents
Introduction
Wolfgang Kemp
The Group Portraiture of Holland

Preface
The Early Stages
The First Period of Group Portraiture in Holland, 1529–1566
The Second Period of Group Portraiture in Holland, 1580–1624
The Third Period of Group Portraiture in Holland, 1624–1662

Notes
Illustration Credits
Bibliography of Works by Alois Riegl
Index
About the Authors