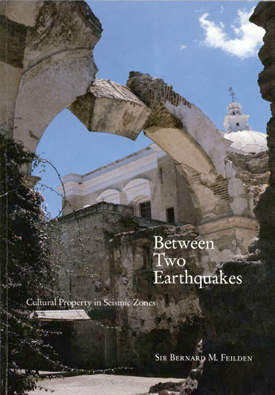 Between Two Earthquakes: Cultural Property in Seismic Zones
Sir Bernard M. Feilden
1987
108 pages
PDF file size: 2.25 MB
Description
This handbook addresses three areas of concern for the museum administrator concerning the protection of historic buildings, monuments, and archaeological sites located in seismic areas. It proposes pre-disaster measures such as taking accurate and complete documentation (photogrammetry is discussed in one of the 13 appendixes), risk awareness, planning, maintenance and inspections.

Second, when an earthquake strikes, the immediate emergency steps necessary to protect life and property are indicated; and after the earthquake, the strengthening of valuable cultural property (based on the Modified Mercalli Intensity Scale, also in an appendix) should be included in the general program of prevention maintenance along with the repairs discussed in detail applicable to each architectural element, and to the site as a whole.
Table of Contents
Foreword
Introduction
Chapters

I. Cultural Heritage and Earthquakes
II. Before Disaster
III. Emergency Action
IV. After the Earthquake

Appendices

1. Fire Protection of Historic Buildings
2. Computerized Listing
3. Photogrammetry and Earthquakes
4. Planning to Protect an Institution and its Collections
5. Modified Mercalli Intensity Scale
6. From Restoration to Maintenance of Historic Buildings
7. Damage Recording Sheets
8. Structural Interventions in Historic Buildings
9. International Course on Preventive Measures for the Protection of Cultural Property in Earthquake Prone Regions
10. International Workshop on Structural and Functional Rehabilitation of Housing and Historic Buildings in Seismic Regions
11. Soil Conditions: Microzonation
12. Emergency Preparations
13. Resolution on Cultural Property in Seismic Zones (ICCROM)

References
About the Authors
Bernard M. Feilden's architectural firm has won more than fifteen prestigious awards, six for which he was personally responsible. He is the recipient of the Europa Nostra Silver Medal for his Chesterfield conservation scheme and the Aga Khan Award for the restoration of the painted dome of the Al Agzah mosque. In 1983 he became director emeritus of ICCROM, after serving as director from 1977 to 1981. He serves as president of the United Kingdom National Committee of ICOMOS and as a member of the Advisory Committee for the Central Council for the Care of Churches and Cathedrals. His many appointments include honorary doctor of the University of York, fellow of the Royal Institute of British Architects, and honorary fellow of the American Institute of Architects. He was knighted by Queen Elizabeth in 1985.