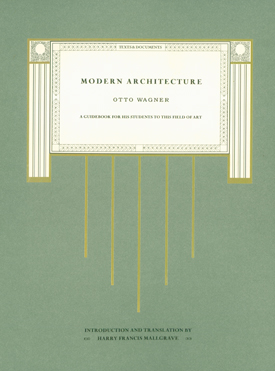 Modern Architecture: A Guidebook for His Students to This Field of Art
Otto Wagner
Introduction and translation by Harry Francis Mallgrave
1988
200 pages
PDF file size: 14.7 MB
Description
In 1896, Otto Wagner's Modern Architecture shocked the European architectural community with its impassioned plea for an end to eclecticism and for a "modern" style suited to contemporary needs and ideals, utilizing the nascent constructional technologies and materials. Through the combined forces of his polemical, pedagogical, and professional efforts, this determined, newly appointed professor at the Vienna Academy of Fine Arts emerged in the late 1890s—along with such contemporaries as Charles Rennie Mackintosh in Glasgow and Louis Sullivan in Chicago—as one of the leaders of the revolution soon to be identified as the "Modern Movement." Wagner's historic manifesto is now presented in a new English translation—the first in almost ninety years—based on the expanded 1902 text and noting emendations made to the 1896, 1898, and 1914 editions. In his introduction, Dr. Harry Mallgrave examines Wagner's tract against the backdrop of nineteenth-century theory, critically exploring the affinities of Wagner's revolutionary élan with the German eclectic debate of the 1840s, the materialistic tendencies of the 1870s and 1880s, and the emerging cultural ideology of modernity. Modern Architecture is one of those rare works in the literature of architecture that not only proclaimed the dawning of a new era, but also perspicaciously and cogently shaped the issues and the course of its development; it defined less the personal aspirations of one individual and more the collective hopes and dreams of a generation facing the sanguine promise of a new century.

The Texts & Documents series offers to the student of art, architecture, and aesthetics neglected, forgotten, or unavailable writings in English translation.

Edited according to modern standards of scholarship, and framed by critical introductions and commentaries, these volumes gradually mine the past centuries for studies that retain their significance in our understanding of art and of the issues surrounding its production, reception, and interpretation.

Eminent scholars assist in the selection and publication of volumes in the Texts & Documents series. Each volume acquaints readers with the broader cultural conditions at the genesis of these texts and equips them with the needed apparatus for their study. Over time the series will greatly expand our horizon and deepen our understanding of critical thinking of art.
Table of Contents
Preface
Introduction
Prefaces to the Third, Second, and First Editions
The Architect
Style
Composition
Construction
The Practice of Art
Concluding Remark
Textual Emendations
Appendix A: Preface to the Fourth Edition (1914), The Promotion of Art (1914 edition), The Criticism of Art (1914 edition)
Appendix B: Inaugural Address to the Academy of Fine Arts (1894)
Appendix C: Illustrations from the Third Edition (1902)
Bibliography
About the Authors
Press Reviews and Awards
"Such a well-crafted book, regardless of its content, is rare: but it is precisely the marriage of form and content here that both delights and instructs." —Design Book Review