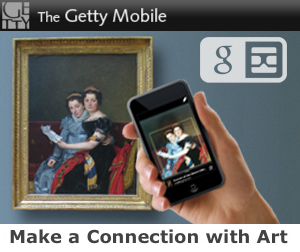 Explore paintings in the Museum's collection using Google Goggles™ for Android and iPhone.
How to Use Google Goggles
Photograph an entire painting using the Google Goggles app. Click the Getty result. You'll discover more about works of art and hear commentary from artists, curators, conservators, or even the works of art themselves.

Use our free Wi-Fi, GettyLink.

Gallery Tips
• Photography using existing light is welcome in the permanent collection galleries. Please check the entrance of changing exhibitions for restrictions.
• Flash photography is not permitted.
• To maintain a pleasant atmosphere for all visitors, please refrain from cell-phone conversations and use of speakerphones in the galleries. Set ringers to silent. Headphones are available at the GettyGuide® desk in the Museum Entrance Hall.