Garden Concerts for Kids
The Getty Center

Garden Concerts for Kids is a free outdoor music series for kids and their families in the Getty Center's Central Garden featuring some of the best children's musical artists from across the nation.

Please feel free to bring a picnic blanket, but lawn chairs are not allowed.


Garden Concerts for Kids will return in August 2013!


Thanks for coming out and making this summer's concert series a huge success!
In case you missed it, here's what our friends at Zooglobble had to say about this year's
Justin Roberts concert
.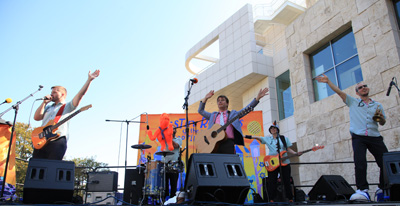 Justin Roberts and the Not Ready for Naptime Players on the 2012
Garden Concerts for Kids stage.
Bill Harley
August 18 and 19, 2012
Two-time Grammy Award–winner and "troubadour extraordinaire" (according to
Parents' Choice
) Bill Harley is a prolific author and recording artist. Using song and story to paint a vibrant and hilarious picture of growing up, school, and family life, Bill's work spans the generation gap with collections such as
Monsters in the Bathroom, 50 Ways to Fool Your Mother, and Dad Threw the TV Out the Window
, to name a few.
Randy Kaplan with David Tobocman and Friends
August 11 and 12, 2012
Randy Kaplan fingerpicked and strummed his way through American roots and delta blues with the ease of an inner tube floating down a lazy river.
Parenting
magazine says, "One of the most exciting newcomers to kids' music since Dan Zanes." Talented singer-songwriter and multi-instrumentalist David Tobocman and his band joined Randy onstage to share some "Very Helpful Songs" to make a feel-good family music jam.
Justin Roberts and the Not Ready for Naptime Players
August 4 and 5, 2012
The Getty Center was the only place to see kindie rock star Justin Roberts in Los Angeles this year! Roberts, who has climbed all the way to the top of the kids' music scene, returned to the Getty with tunes from his latest Grammy Award-nominated album,
Jungle Gym
.
Frances England
August 20 and 21, 2011
Singer-guitarist Frances England sings about bicycles, ladybugs, and Jacques Cousteau on her Parent's Choice Gold Award-winning album,
Mind Of My Own
. With warm, indie-folk melodies and alt-rock rhythms, England's incredibly creative and slightly off-beat take on family life has inspired a world of fans since her 2007 breakout album,
Fascinating Creatures
.
Brady Rymer and the Little Band That Could
August 13 and 14, 2011
Grammy nominated, Brady Rymer and the Little Band That Could is a rollicking back-porch rock 'n' roll band with a feel-good R & B foundation. This music had families up and dancing and smiling from ear to ear! They "might just be the best-sounding band in children's music," according to National Public Radio.
Lucky Diaz and the Family Jam Band
August 6 and 7, 2011
One of the brightest new artists on the kids' music scene is local gem Lucky Diaz and the Family Jam Band. This Silver Lake trio was named the best new kids' artist of 2010 by
USA Today
. Their fresh rockabilly, retro tunes, and indie goodness opened the 2011 Garden Concerts for Kids series, with songs from their album,
Oh Lucky Day!
Sarah Lee Guthrie and Family
August 21 and 22, 2010
Sarah Lee Guthrie brought charm and heart to her alt-country music for children and families. Accompanied by her husband Johnny Irion and kids, Guthrie continued the song-making tradition forged by her grandfather Woody and father Arlo, presenting thoughtful, playful music inspired by folk traditions, as well as bright new compositions.
Elizabeth Mitchell and Family
August 14 and 15, 2010
Sharing "handmade" songs from their upcoming album,
Sunny Day
, Elizabeth Mitchell, her husband Daniel Littleton and their nine-year-old daughter Storey reminded us of the joy to be found in the simplest moments of everyday life. Breathtaking vocals, fresh new arrangements and harmonica solos by Storey made for a magical weekend. Plus, the audience picked up a copy of
Sunny Day
before its October release!
Milkshake
August 7 and 8, 2010
Milkshake is a band on a mission: to create great rock music for kids. Led by alt-pop and rock veterans Lisa Mathews and Mikel Gehl, Milkshake's lively attitude and lyrically lighthearted songs have won fans of all ages and got audiences dancing with their authentic rock-and-roll spirit.
Recess Monkey
August 15 and 16, 2009
Striking a balance between goofy and cerebral, Recess Monkey performed fun tunes about the many topics of a child's day, from putting on your socks to the troubles with homework.
Trout Fishing in America
August 22 and 23, 2009
The four-time Grammy nominated duo Trout Fishing in America harbors the uncanny ability to create a full-bodied ensemble sound, using only guitar and bass. The long-standing musical partnership of Keith Grimwood and Ezra Idlet brought their infectious mix of folk/pop and family music to the Garden Concerts for Kids series.
Justin Roberts
August 29 and 30, 2009
As one of the "all-stars" of the indie family music scene, Justin Roberts and his bandmates—The Not Ready for Naptime Trio—dished out intelligent and whimsically rocking music for kids and their parents.
How to Get Here
The Getty Center is located at 1200 Getty Center Drive in Los Angeles, California, approximately 12 miles northwest of downtown Los Angeles. See Hours, Directions, Parking for maps and driving directions.