Museum Lighting Research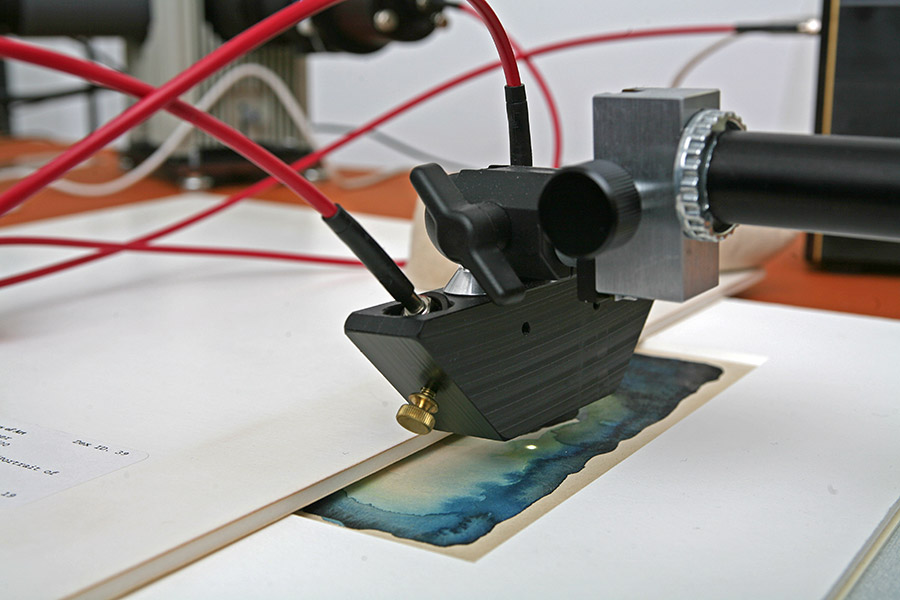 Probe of microfader positioned over a section of a watercolor by Georgia O'Keefe. Photo: Dennis Keeley.
Microfadeometry is the technique of using a tiny spot of very intense light as a probe to measure color changes in individual objects of art that are sensitive to light exposure. A recently designed instrument called a microfading tester records reflectance spectra and color information continuously during a microfading test for a period of anywhere from a few minutes to several hours.

This area of research has the following goals:
1. establish standard methods for carrying out microfading testing and evaluations between different instruments
2. create a robust pool of expertise in interpreting accelerated fading results and applying them to real conditions
3. assist new users of instruments in building and operating their instruments
4. create joint research efforts on difficult materials, such as glazes on paintings and synthetic polymers or feathers
5. improve the basic methods of accelerated light aging;
6. study the kinetics and reciprocity implications of accelerated aging;
7. develop a new portable microfader based on a robust LED light source.

The GCI owns several benchtop microfaders that conduct research on light damage to cultural materials. In 2009 a third instrument was designed for maximum portability and in 2012 a fourth, even smaller instrument was developed and validated, which combines a simplified power supply and electronic support systems. All four are used in the GCI's Museum Lighting Research project and support the exhibition and loan policies of both the Getty Research Institute and J. Paul Getty Museum.
Other cultural institutions with their own instruments for microfadeometry include Carnegie Mellon University in Pittsburgh; the Library of Congress and the National Gallery of Art in Washington DC; the Museum of Modern Art in New York; the Canadian Conservation Institute in Ottawa; the Los Angeles County Museum of Art; and the Art Conservation Department at Buffalo State College in New York.

In addition, similar instruments of a slightly different design are in use at Tate in London, the Netherlands Institute of Cultural Heritage in Amsterdam, and the Centre de recherché sur la conservation des collections in Paris.

A meeting of selected users of this instrumentation was held in Amsterdam in spring 2009 to help form a coordinated body of microfadeometry users worldwide.
Page updated: November 2012