Mosaic Conservation Technician Training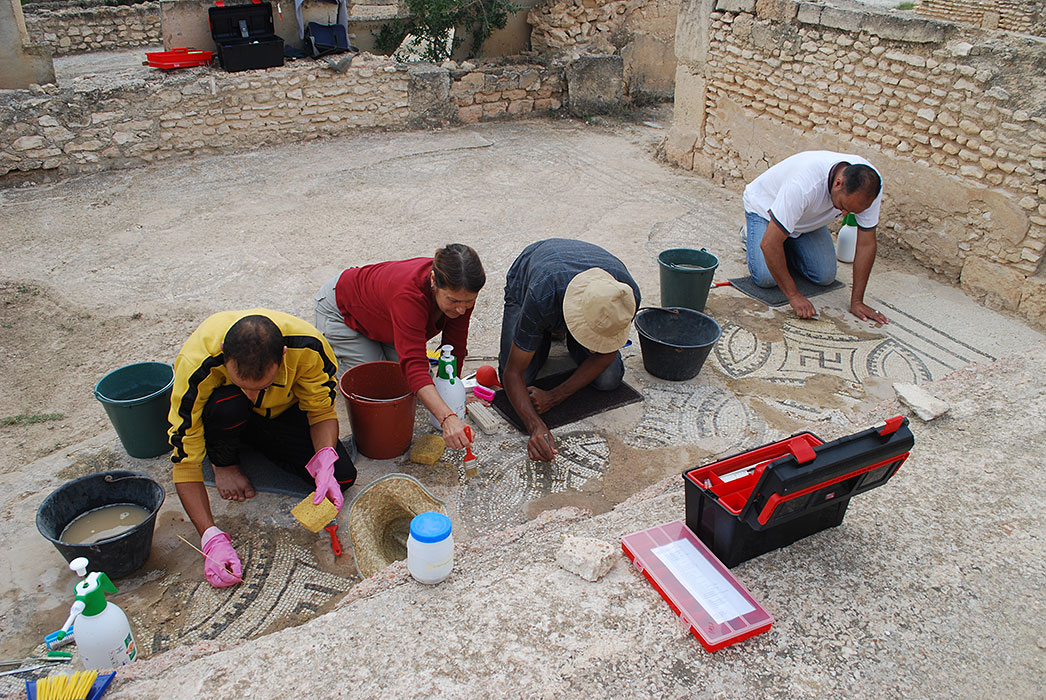 Following a review of technician candidates proposed by the national cultural authorities of North Africa, thirteen trainees from Algeria, Morocco, Tunisia, and Libya were selected to attend the two-year regional course held at the site of El Jem in Tunisia in collaboration with the INP.
The course, begun in spring 2012, was organized into four training modules, each focusing on different subjects. Beginning with documentation, the curriculum provides a methodology for written, graphic and photographic documentation. The course didactic materials, available in French, English and Arabic, also include summaries of the major subjects taught during classroom lessons.
After introducing a subject in the classroom, practical exercises were carried out on site by the trainees, with supervision from the instructors. Supervised practical work on site forms the majority of the training. The technicians were equipped with tool kits and other practical materials that will assist them in their future work on their home sites.
During the course, the trainees learn to document mosaics, their condition, and previous treatments, as well as their own interventions; to select appropriate lime-based mortars for the various types of stabilization and repair treatments; to carry out specific maintenance and protective interventions, such as the removal of vegetation, the provision of rain water drainage, and reburial; to carry out on-going monitoring of mosaics, and to keep a maintenance file for each mosaic.
The final training session also introduced the trainees to the repair and maintenance of mosaics previously relaid on site on support panels of reinforced concrete. This is a difficult yet common problem encountered with increasing urgency on sites where, after decades of exposure, the mosaic surfaces often begin to fracture and break apart from their modern concrete support panel. The only long-term and sustainable conservation solution to these mosaics is to replace the concrete panel backings with new lime mortar bedding layers.
A course for Moroccan technicians began in 2017. It is addressing in situ mosaics as well as specialized training in the conservation of mosaics that have been lifted and relaid on site using reinforced concrete backings.