Mechanical Characterization of Materials
Acoustic Emission Testing for Wooden Objects
This research component is using acoustic emission testing in a controlled experiment, in which a group of wooden objects is exposed to gradually increasing RH variations, thereby allowing the team to record micro-fracturing in the wood. The study explores how damage can be correlated with specific environmental conditions.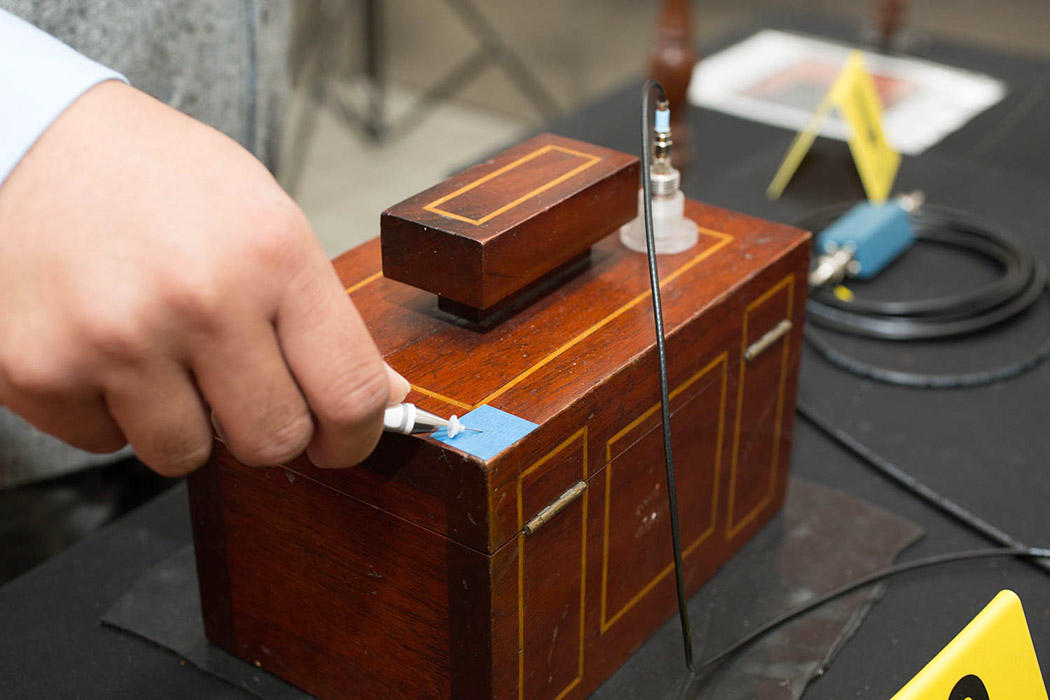 Background
Direct observation of damage development is the most straightforward and consequently most reliable approach undertaken to assess the influence of climatic conditions on a collection of objects comprised of hygroscopic materials. But such observation is difficult since climate-induced damage is slow and cumulative rather than catastrophic.
Therefore, to accurately document the damage using the macro-scale methods, normally employed in the conservation field, scientists must conduct measurements on a large number of objects (to reduce statistical error when measured values are at the limit of the detection) or for a long time (to make difference in preservation state clearly visible).
An alternative approach is to apply nondestructive methods for the direct tracing of physical change in historical materials at the micro-scale. Many such methods have been developed for applications in engineering, and only recently adapted to tracing damage in cultural heritage objects. Acoustic emission (AE) is one of the most suitable for indicating risk to objects exposed to potentially harmful conditions. Unlike many available sensors or dosimeters, the AE sensor allows one to record damage directly while the consequences are still virtually invisible rather than probing the aggressiveness of the environment or waiting for visible damage to develop.
Acoustic Emission Testing
Acoustic emission is defined as the energy released due to micro-displacements in a structure that is undergoing deformation. Travelling through the material as ultrasound and sound waves, this energy can be detected at the surface using a piezoelectric transducer which converts the surface vibration to an electrical signal. Since physical failure of many materials is preceded by a discernible level of AE activity, AE monitoring has become an important tool in material science and engineering, capable of predicting macro damage and tracing crack propagation accurately in space and time. These unique characteristics make AE a method with great potential to record environmentally-induced physical changes directly in historical materials and, hence, to support the assessment of strategies for museum indoor climate management.
Development of Monitoring Methodologies
Applying AE to museum collections requires specific measures to deal with issues such as the uniqueness and fragility of monitored objects, the diversity of construction materials, and the measurement of signal in an often-noisy environment. Also, wood itself is a challenging material from the point of view of AE monitoring. Its orthotropic nature presents distinctively different mechanical and sorptive properties along its longitudinal, radial, and tangential axes. Further, different wood species display specific structural and density variability in its growth ring structure, as well as varying fractions of amorphous hemicellulos. These factors can affect the propagation and attenuation of acoustic emission signals generated during micro-cracking of the wood structure.
Research at the GCI is focused on developing monitoring methodologies for wooden art objects that take into consideration amplitude and frequency attenuation of acoustic signal propagating in wood as well as effective methods of filtering environmental noise. The research team is also working in cooperation with Jerzy Haber Institute, Poland on absolute calibration of acoustic emission signals in wood to directly correlate the energy of recorded AE signals with micro-damage development.
Page updated: April 2017