Technical Studies
A portion of the exhibition presents some of the work and findings of a team of Getty conservators and conservation scientists who have examined panel paintings and illuminated manuscripts from the period in order to gather information about artistic techniques common in early 14th-century Florentine workshops. In addition, the appearance of many early panel paintings has changed over time due to environmental conditions and restorations, while manuscripts often maintain their original appearance. Thus, illuminations can provide important information missing from panel paintings and inform our understanding of the original splendor of these works.
Color Reconstruction of the Chiarito Tabernacle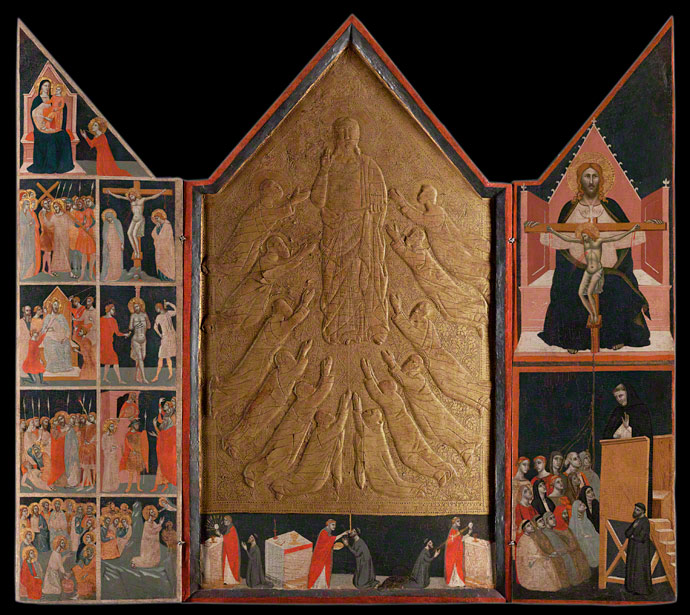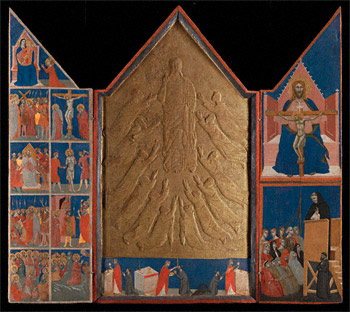 Shifts in color, opacity, surface texture, and gloss are commonly observed in artworks over time. Some alterations are a result of the environment—light, temperature, humidity, and air pollution can all affect the look of an object. Others may result from the use of unstable materials or particular methods of application. When changes cannot be reversed, it is sometimes possible to create digital images that simulate an object's original appearance.
The
Chiarito Tabernacle
is an ideal candidate for digital color reconstruction: the blue background has darkened to almost black, the pink robes have faded, and in some yellow areas the pigment has almost completely fallen away. These pigments were identified using scientific analysis, and their original appearance in the
Tabernacle
was calculated using similar areas from better-preserved works as references. Other colors also may have changed, but since less information was available, they were not digitally "restored." Even this partial digital color reconstruction provides an informed visualization of how the painting would have originally appeared. Simulations such as this may provide new art historical perspectives, inform conservation treatment, and offer modern viewers an experience closer to that of the Florentines of the 14th century.
How Paintings Change Over Time
Originally forming the left and right wings of a triptych with the Crucifixion (now lost) in the center, the panels below were made for the Church of Sant'Orsola (Saint Ursula) in Florence. Today, slightly cut down and in different collections, these paintings have suffered damage from wear and from past conservation treatments.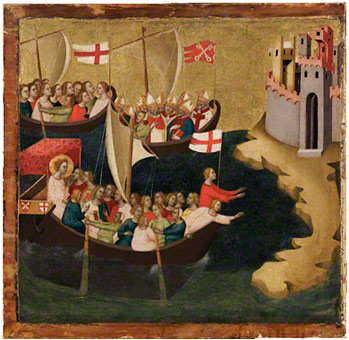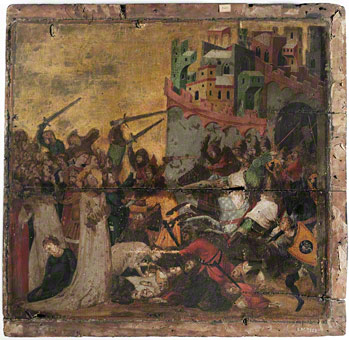 While the painting at left has some abrasion and losses in the gold background and water, the figures and buildings are in good condition. Old restorations and layers of discolored varnish and dirt obscure much of the painting at right. The two paintings are being shown together for the first time in at least a century, and they will be studied in greater depth after the exhibition.

These two panels tell the story of Saint Ursula's martyrdom. At left, Ursula, on her way back north after a pilgrimage to Rome, approaches the German city of Cologne. She sits under a canopy at the rear of the foreground boat; two of her 11,000 virgin companions reach out toward the shore. At right, Saint Ursula and the 11,000 virgins, as well as several bishops and Pope Ciriacus, are ambushed and mercilessly slaughtered by an army of Huns. Daddi captured this violent moment of chaos by densely crowding the virgins at left surrounded by soldiers wielding swords while warriors on horseback topple a group at right; the pope, in red at lower right, crawls out from under a pile of bodies. In the left foreground, Saint Ursula kneels in prayer with dignity awaiting her death.
Publication

At the Art Gallery of Ontario