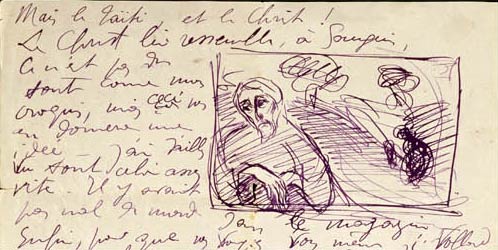 Letter from André Lhote to Gabriel Frizeau, November 11, 1908 (detail)

In this excerpt from his letter to Gabriel Frizeau, artist André Lhote recommends a painting by Gauguin to the art collector. Lhote includes a sketch of the painting with this description:
But Tahiti and Christ! The Christ resembles Gauguin, it's not at all like my sketch, but this will give you an idea, I only had a quick look. There were quite a lot of people in the gallery.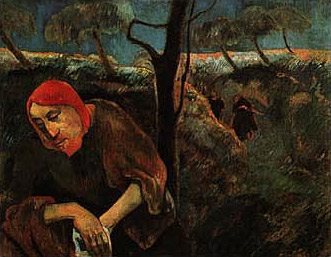 Agony in the Garden, 1889
Paul Gauguin
French, 1848–1903
Oil on Canvas
28 1/2 x 36 in.
Gift of Elizabeth C. Norton, 46.5
Norton Museum of Art
West Palm Beach, Florida

The painting Lhote described is now in the Norton Museum of Art in West Palm Beach, Florida.