Known primarily for dealing in contemporary academic paintings, the firm Boussod, Valadon & Co. also handled the works of impressionist and postimpressionist painters.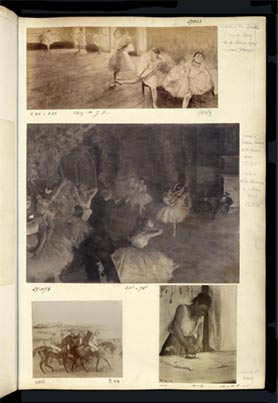 Album of Photographs of Art in Stock,
about 1900
Boussod, Valadon & Co.

Degas' painting La Répétition is depicted in the center.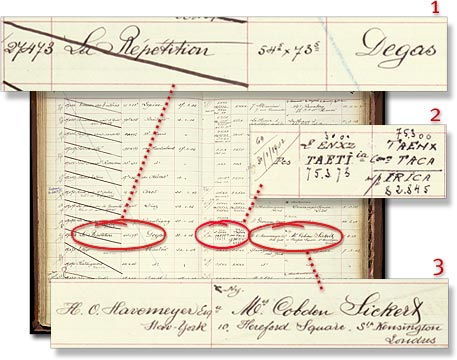 Valadon Stock Book (details)
Boussod, Valadon & Co. stock book, about 1900

The entry in the stock book for number 27473 (1) records the purchase of Edgar Degas' La Répétition (1874) from the wife of the British painter Walter Sickert (3) in January of 1902, and its sale a week later to the well-known New York collectors Louisine and H. O. Havemeyer for a profit of nearly 7,500 francs (2) (equivalent to $1,500 in 1902; or $30,500 today). Degas' painting is now in the Metropolitan Museum of Art, New York.